IncidentAdmin: Incident Management Reports and Tracking
Incident management reports and tracking is integrated into OperationsCommander through IncidentAdmin. IncidentAdmin is an all-in-one incident management platform for security teams to track issues and manage all aspects of physical security, investigations, and caseloads. It has been designed to improve response time and to suit the needs of a variety of operations including Colleges and Universities, private facility security, and niche security teams.
IncidentAdmin will improve response time and ensure an incident response is handled and tracked as required. Comprehensive reports and system search tools help to bring together data to facilitate improved incident reporting.
Streamline Incident Investigations and Reporting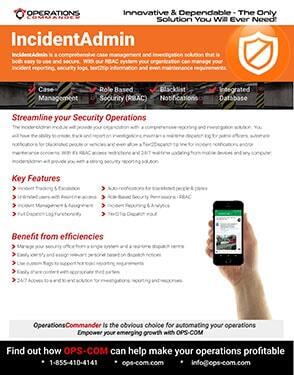 The incident reports and tracking cloud-based software tool will allow you to streamline your incident tracking information by sharing it with unlimited users. Each organization can carefully define these users using our extensive role-based access control feature to carefully define each admin's access based on their specific job function. From the incident report manager down to the front desk clerk, anyone who can provide relevant information to your incident database can have role-specific access to the platform. The ability to create dispatch logs, and incident reports and to link relevant investigation data to these different security files will improve your security environment while reducing your incident occurrences and liability.
Caseload and incident management including real-time dispatch
Incident reports and tracking for case investigations
Subject profiling and auto-notification for watch list subjects
Documentation for interviews and evidence gathering
Comprehensive reporting on security trends and investigations
Role-based access control for unlimited users
INVESTIGATION-FOCUSED SECURITY INCIDENT REPORTS
IncidentAdmin includes several built-in security incident reports that support the needs of organizations that require incident reporting functionality. The list below includes brief descriptions of the investigative reports available for accurate analysis. We also support custom report building for clients who require different reports for different purposes.
In all incident management reports, quick links provide drill-down details for any incident and to improve the investigation and tracking process.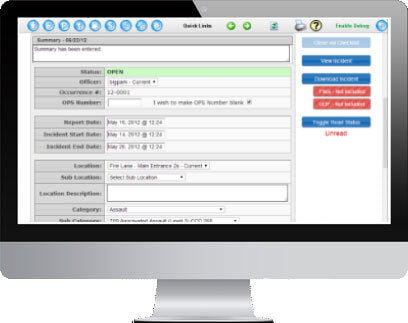 Clery Act Compliant Reporting
With IncidentAdmin, you can organize and produce your Clery Act Reporting as required. LEARN MORE.
Manage Incidents
Your reports are produced on a secure database with access restrictions for data integrity and evidence preservation.
Flag Incidents
Create customizable flags for easy tracking and reporting based on your primary concerns.
Reporting and Analytics
Flexible incident reporting tools for investigative reporting and analysis.
Built-In Dispatch
24/7 real-time dispatch with a Heads-Up-Display, including prioritization, note recording, and officer activity tracking.
Alarms for Blacklists
Automatically send alarms or dispatch messages when a person or vehicle of interest is identified.
Access Restrictions
Role-based access control (RBAC) for incident management users and an escalation audit trail to prevent data tampering or alterations.
Text2Dispatch
Provide a tip line to receive dispatch tips on crimes, threats, and maintenance requirements by SMS messaging.
SAMPLE INCIDENT MANAGEMENT REPORTS
The following reports are a small sampling of the incident reports that are available within IncidentAdmin. Though not obvious these reports link to both parking management and violation management data. Once a user has a profile in the OperationsCommander parking and security management platform, they can be interlinked between the different modules to improve the investigation process.
Incident Summary Report
Displays a summary of all incidents within a specified time. Links in the incident report offer access to further details.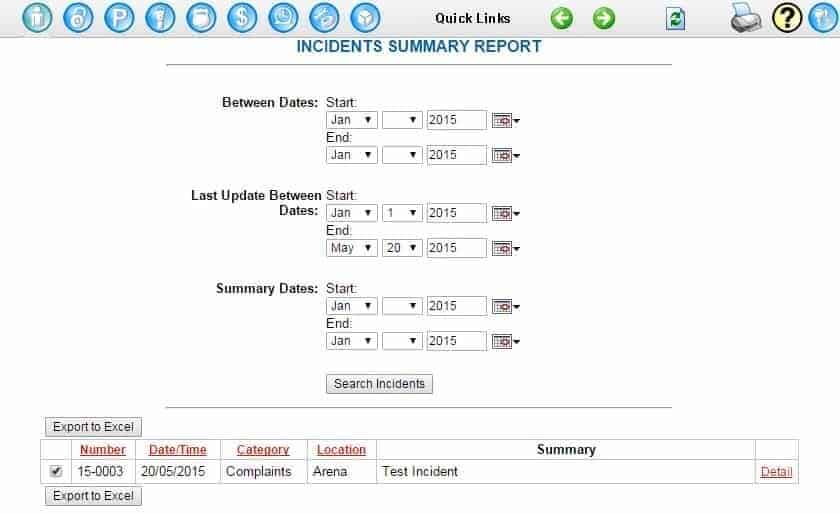 Incident Summary Report by Sub Location
Displays a summary of incidents recorded within a specific sub-location over a specified time.

Search Repeat Offenders Report
Identify users with multiple violations. Filters include the date, ticket type, number of violations, and user types. User profiles and vehicle information can be accessed from links within the report.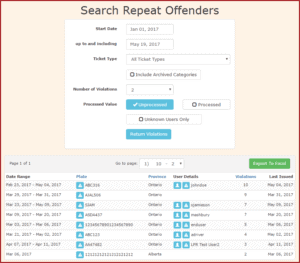 Incident Dispatch Logs for Easy Integration and Tracking
Gain 24/7 access to the information and systems that will help you create a safer, more secure environment. Incident management users can create complete incident logs to minimize delays for officer dispatches. Most administrative users on the system can flag people and vehicles in the system for notification.
A centralized incident management feed provides dispatch personnel with access to incoming information from public reports, patrol reports, and dispatch logs so they can make informed decisions. IncidentAdmin offers a heads-up display to easily view and drill down to investigate incidents and build cases.
Comprehensive incident reports and tracking options with customizable fields make reporting easy and meaningful. Reports can be exported to standard formats or can be custom-built to match local police requirements. In some cases, incident data is easily transferred to local police to assist with their own investigations.
Simple and Fast Log Creation
Create event logs from alarms, patrol reports, phone calls, walk-ins, etc.
Categorize logs based on your operations (e.g. alarm response, complaints, fire reports)
Add comprehensive notes for reference
Attach supporting images
Dispatch Log Reporting
Monitor for trends and identify areas of improvement
Create summary reports for dispatches
Direct access to individual dispatch entries
Search and sort by source, category, user, or date
Add additional notes to dispatch reports
Security Activity
Track security activity and initiate the dispatch
Text2Dispatch mobile incident reporting from public users
Track assistance requests and maintenance requirements