Parking and Security Case Study: Carleton University – Ottawa, Ontario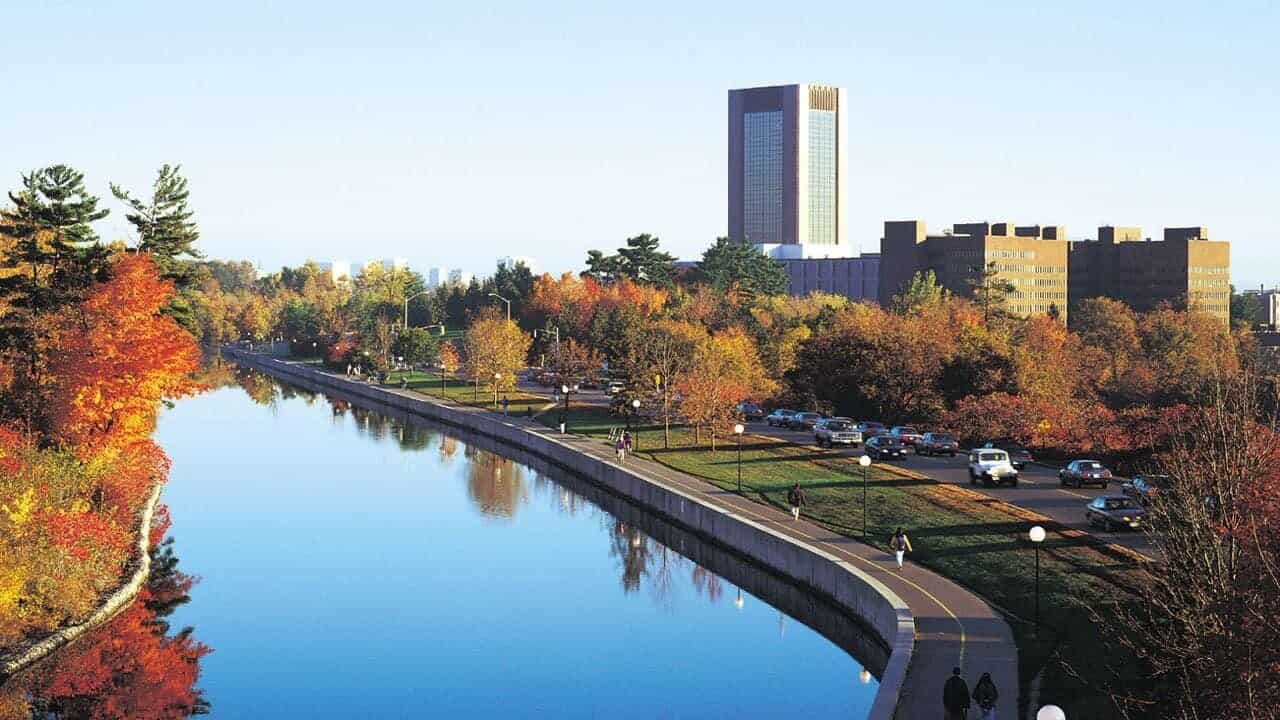 Industry
Education
Organization

4,500 staff
29,000 students
3,500 campus residences
9,000+ parking permits
12,000+ violations / year
3,500+ incidents / year

Location
Ottawa, Ontario
About Carleton University
The Department of University Safety at Carleton University consists of various teams including Patrol Services, Parking Services, Technical Services and the Carleton University Student Emergency Response Team. Together these entities work to address the universities needs for personal safety, protection of property and parking.
Patrol Services provide coverage and response to events on campus. Parking Services aims to provide an adequate level of parking and locker accommodations.
Technical Services focuses on the design and maintenance of hardware and physical security at Carleton focusing on card access, intrusion alarms and surveillance systems.
These groups work together on a joint mission of making the community's safety a priority while still keeping an eye on the quality of service they offer.
Client Overview
Carleton University is situated on a 62-hectare property between the Rideau Canal and Rideau River in Ottawa, Ontario. Carleton College was originally founded in 1942 and grew to meet the needs of those returning from World War II. Carleton College became a public University in 1957. Today Carleton University offers a secure environment to over 30,000 staff and students, of which over 3,500 students live in residence.
The Carleton University parking and security office has led the charge or been on the cutting edge of integrating technology and operations. As one of the drivers behind many aspects of OperationsCommander, they are pushed to replace physical hangtag permits with virtual ones. Fast forward a couple of years, and they moved to paperless parking. Now with an investment in LPR technology, they are investigating ways in which they can leverage that to help automate operations.
Parking & Security Challenges
Departments working together as a single entity (KEY)
Keep community safe (KEY)
Ensure a high quality of service (KEY)
Meeting their mission
Track parking allocations
Issue and track violations
Work together with local police
Technology Solutions
For the University, one of the key benefits of using OPS-COM is the ability to have all data easily accessible under one software platform. As one of our earliest clients, Carleton University offers direction to help drive innovation in the areas of campus security.
OPS-COM parking and security platform
ParkAdmin for parking management
Allows users to self-manage parking and payments
Used to audit parking lot usage
Expose opportunities for overselling
Provides flexibility in permitting to maximize revenues
Text2Park.Me
ViolationAdmin for parking enforcement
Allows users to pay and dispute violations online
Remote data access using Android handhelds
Supports virtual chalking with remote sharing to all connected violation devices
Easily attach multiple images to support virtual chalking and violations
IncidentAdmin for incident tracking
Easily identify and manage issues
Easily communicate issues to other staff
Push incidents to local police in a format they can work with
Track and report user access, maintain user or vehicle watch lists
PL8-RDR – license plate recognition
LPR monitoring of vehicles for parking validation
Enforcement of vehicles with automatic virtual chalking
Automatic tracking and reporting of vehicles of interest
3rd party integrations
collections; MTO and or DMV vehicle lookup
Banner – staff and student system of record
CALE – temporary parking terminals
CU Campus Card – payments linked to a student account
Paymentech – online portal payments
CBORD CS Gold – access control and tracking
HID – card access control systems
Panasonic – room, and area monitoring cameras
Tattile – license plate recognition cameras
Parking and Security Project Results
The OPS-COM parking and security platform is a perfect fit for Carleton University. The cloud-based management system makes data access available to staff members securely. Through the use of role-based permissions, the staff has access to only the areas they need to fulfill their specific job function. The OPS-COM system interlinks data, allowing quick and efficient access to information in the field or the office. Self-managed profiles mean that their customers can select and pay for parking or violations at any time of the day and from anywhere.
In addition, their use of IncidentAdmin allows them to generate reports that can be easily passed to the local police department or other third parties in a format of their choosing, ensuring a seamless hand-off when necessary of important security-related materials.
Resulting Benefits
Seamlessly connect different business functions through one common interface
Allow staff to interact with data and communication tools as a single solution
Future
We are currently working with Carleton to transition to a full LPR environment to support paperless parking and assist with the autonomous monitoring of vehicles. Through the use of alarms and automatic system notifications, the OPS-COM platform will offer the ability to not only track but also notify when a vehicle or person of interest is "seen" on campus.
We continue to work with Carleton to help them find ways to meet their mission