Case Study: Town of Smith Falls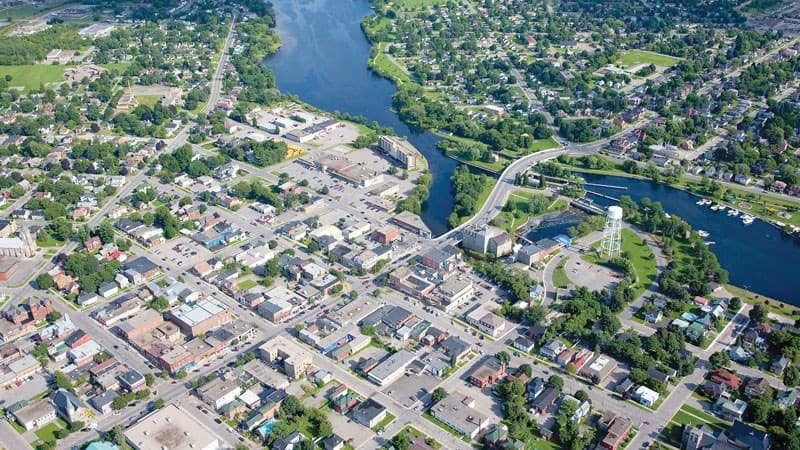 Smiths Falls, located in southeastern Ontario, has over 9,000 people. The community is the largest town in the Rideau Corridor, serving as a stopover point for the Rideau Canal, with four locks in three locations and a combined lift of over 15 meters.
Smiths Falls is named after Thomas Smyth, a United Empire Loyalist who granted 400 acres of land in Smiths Falls. As a village, Smiths Falls was incorporated in 1854. Heritage House Museum is one of the town's historic buildings. The town of Smiths Falls purchased the building in 1977 and restored it.
There were times when Smith's Falls or Smith Falls were used in place of the town's name, but today "Smiths Falls" is considered accurate.
Client Overview
Downtown Smiths Falls experienced a significant shift regarding parking in 2020 when the Council voted to eliminate the old paid parking and replace it with new parallel parking spots, a bike lane, and free two-hour parking.
After Smiths Falls decided to eliminate paid parking and replace it with free parking, the town needed the help of a modern enforcement solution to assist them in enforcing their new limited free time parking policy. The Council wanted the downtown core to have a reasonable turnover rate to support local business and ensure the downtown core would be as welcoming and as inclusive as possible to all. In this regard, accurate E-chalking became an immediate necessity.
The Smiths Falls council needs to control how long people are allowed to park based on the district, whether commercial or residential. Furthermore, the board wanted to integrate all of the revenue income generated by parking and violations into the existing Asyst financial system to keep track of all their financial transactions easily.
Parking & Security Challenges
link violations to municipal court process (KEY)
revenue generation (KEY)
merging parking operations (KEY)
ensure a high quality of service
track temporary parking allocations
issue and track violations
Technology Solution
In Smiths Falls, the City council wanted to eliminate all paid parking meters and replace them with a limited-time free parking system. We provided OperationsCommander (OPS-COM) to the board as a world-class solution. With the help of this application, their enforcement team can enforce vehicles that overstay their established free parking periods in various zones throughout the town.
We also provided them with our ParkAdmin, and ViolationAdmin modules using an integrated payment provider. In turn, we will build a custom financial export report that will perfectly match the data fields in their Asyst solution so that the data can be easily transferred.
OPS-COM parking and security platform
ParkAdmin for parking management
generate revenue from self-serve parking
allows users to self-manage parking and payments
used to audit parking lot usage
Bylaw enforcement
Court automation; including financial resolution
ViolationAdmin for parking enforcement
will enable users to pay and dispute violations online
remote data access using Android handhelds
support remote sharing of virtual chalk information
virtual chalking and violations with context imagery
Solution Result
Our solution yielded the following results:
Benefits
The benefits of our solutions include:
Eliminate the pen&paper violations and the manual processes that come with it.
Easily support their free time-based parking rules. Parking enforcement is easier and more accurate.
The admin work has new efficiencies, including the ARIS/MTO automation.
Finance has a simple import process to keep accurate data.
Future
If The Town of Smiths Falls decides to expand on their paid permitting options, they have a platform that can already support that add-on.
OPS-COM is easily scalable, so as the town grows, it will be easy to add in permitting options or increase the number of enforcement handhelds required to do the job correctly.
Analytics from the permitting and enforcement will help Smiths Falls make better decisions about its rules and enforcement processes to improve its services over time.
The investment in OperationsCommander offers a variety of improvements over their previous practice.

The parking patrol officers will be able to easily chalk vehicles to track free time parking and to provide evidence of overstaying the free time with both a GPS location and images of the vehicle in question.
They will save labor time on issuing and managing the lifecycle of a violation.
They will save labor time in the office for supporting parking and violation requirements since all aspects can be self-served online, from paying for permits & violations as well to requesting appeals.
They will save time by having a custom revenue export that can be easily fed into their existing Government Billing Software.